Hey, remember when Konami wasn't hot garbage? I do! And in honor of that memory, I made a code that allows you to create a Konami-code-like cheat code system for your title screen.
Here's a quick demo I made showing it off!
STEP 1: Set up a file for look up tables if you haven't already.
A lot of my codes use look up tables, and I find it's sometimes easier to use one file for all the smaller tables I have. Create an asm file and put it somewhere in the GameEngineData folder (if you're not sure, just put it into GameEngineData\Routines\UserScripts\), and paste the following code into it:
IMPORTANT!!!
This is where you'll define your cheat code inputs. Right now it's set to use the Konami code (which I'm calling the "Komami code" for now), but you can set it to use whatever code inputs you want, just make sure there's a comma between them. I added a little graph with the bits labelled to their corresponding buttons, to make it easier. Also, if you change the number of code inputs, be sure to change the number in the "press start" script to reflect that (it's on line 4). Once you're done, name your asm file whatever you like and make note of where you saved it.
Now that you have that settled, you'll want to go into your MainASM.asm file in GameEngineData and include your script. Make sure you put it down toward the end, after the include for "HUD_DEFINES.dat", but before "columnTableLo". Like this: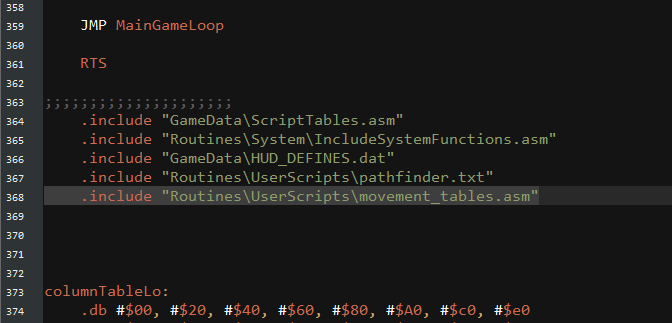 STEP 2: Download the scripts and import them into NESmaker
Now you'll want to import your scripts. You can either download the attachment, or copy the codes pasted below and insert them into asm files yourself. Whichever's easier. (I'll be loading the codes up to NESmakerfiles.com soon as well.)
KomamiCodeInputs.asm:
IMPORTANT!!!
This is the part you want to pay attention to. See those lines with the ";; INSERT CODE" etc etc? That's where you're going to define what happens when you input the code correctly and what happens when you don't. This is why I labelled this intermediate difficulty, as you'll have to define what effects the code has yourself. After the press start script is done checking your code input, it'll start your game like normal.
Once you import those codes into your input scripts, add them into your editor. With the start screen, you can simply set it up to when the player presses start. The KomamiCodeInputs script is a bit more... involved.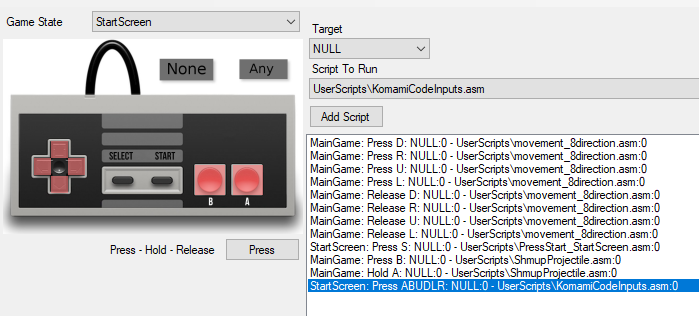 You can see here that I highlighted all the inputs that my code uses (Up, down, left, right, b, and a). I wouldn't recommend using the same button for the start screen and the input script, though, as you might run into trouble there.
STEP 3: Set up some custom variables!
Normally you'd have to dive into the code for this, but thankfully the newest version of NESmaker allows you to define your own custom variables. Just go to Project Settings>User Variables, and create the following: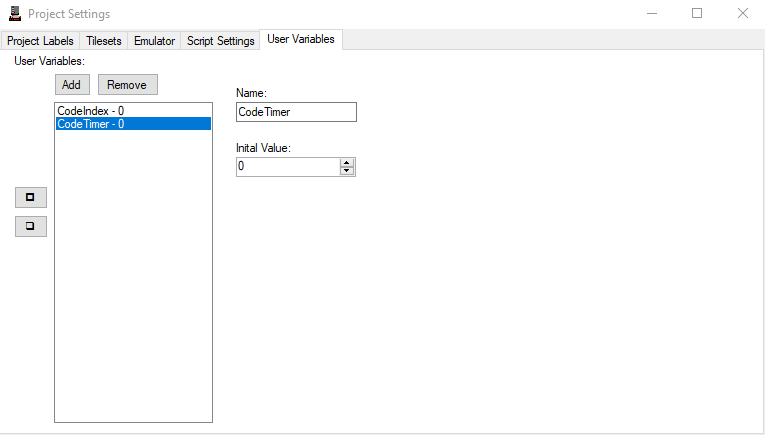 Easy peasy! Now that we have that over with, it's time for the last step...
STEP 4: Modifying HandleGameTimer.asm
You can find this script by going into Project Settings>Script Settings, highlighting the "Handle Game Timer" script, and clicking the "Edit" button. From there, you'll want to enter the following code right after the line "dontUpdateGameTimer:"...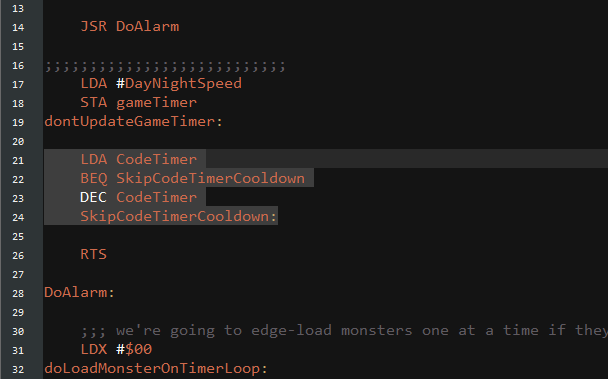 Once that's done, you should have a fully functioning cheat code script!