Hello there, it's been a while since I've posted anything on this forum. I'm having difficulties finding ideas for monster and bosses for Fight of the Phoenix. But while searching for new monsters I came up with a "simple" idea: A smaller scale 2 player versus game.
Its name will be
Black White Blood
.
In order to give an idea of how it would look ingame here's a mockup screenshot (minus the UI which should replace the red part.):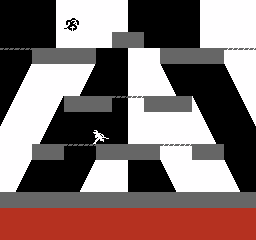 The idea is to have two player (white ninja and black ninja) fighting each other on a single-screened monochoromatic arena. The players can hide in the parts that are the same color as them and will be completly invisible unless they attack, in which case they are revealed by their red blade. When a player is killed it will leave a "blood" splatter of his own color on the background tiles, making it more difficult for the opponent to hide within his own color. Oh, and their attack is a one-hit kill.
Each match will be based on a lives system, the player who still have lives remaining wins.
The plan is to have something smaller in scope in which we can still show the possibilities of NESMaker. The objective is to have 10 maps at least with a level select (in which we could see the level layout before beginning a match ?), the possibility to select the number of lives for the players, and a respawn system that doesn't restart the map (à la Smash Bros).
If possible, I want to implement more maps into the game, more map gimmicks (maps that loops on themselves, triggers, etc...), a score gamemode (where players have to get the highest score during a time limit), maybe even unique music for each map.
But in order to archieve that I will need to cooperate with somebody who knows how to code and someone who knows how to compose music. That's an idea I wanted to keep a trace of and show you all.